October 17, 2009-San Francisco
Aaron and I rolled out of bed to go down to Ocean Beach which was only a block from where we were staying.  We had planned to do this early because we weren't sure how much time we would have to spend at the beach on our trip to San Francisco.  Aaron and I had each seen the ocean, but this was our first time to see it while we were together.  That morning the ocean was beautiful a little foggy, but beautiful.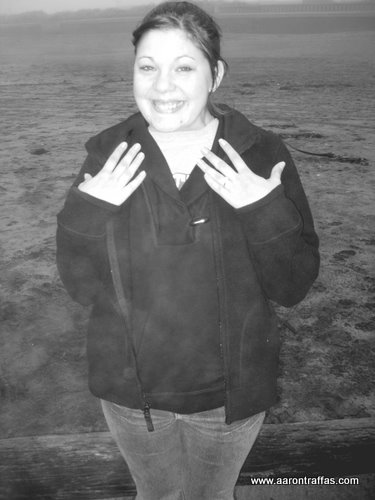 Aaron walked me down close to the water and gave me a hug.  He started to tell me how happy he was that we came to San Francisco and how the last 3 years of his life had been so great.  That was right about the time I started to realize what was going on.  I hugged Aaron tighter as he continued with his kind words.  Before I knew it he was down on one knee right in front of me holding a little black box containing a gorgeous 3/4ct. diamond engagement ring.  And that is when he said "Diane, will you marry me?"  I was so excited, I said "YES YES YES!"  and hugged him tightly. As Aaron slid the ring on my finger I couldn't help but tear up.  It was perfect, the ring was beautiful and the setting on the beach was so special.  I could not have asked for anything more.
I wanted Aaron to sit down with me, I just needed to take a minute and absorb everything that had just happened, so we headed back up to a bench and that is when the phone calls began.  We called our families to let them know of our exiting news.
Aaron and I spent the rest of the day touring San Francisco.  We went to the Golden Gate Bridge as well as The Palace of Fine Arts.  One of my favorite places we went was "The View" a bar at the top of the Marriott in downtown San Francisco.  From "The View" we were able to get a view of the entire city and the bay, it was amazing!
Aaron had also planned for a friend to take our engagement pictures while we were in San Fran, so we will have pictures from all over the city.  I cannot wait to get those pictures.
To say the least we had a fantastic time in San Francisco!