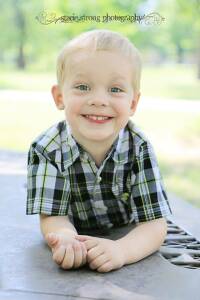 On June 1st I took Nolan up to Pratt to have his pictures taken by Stacie Strong. As always Stacie did a great job and was undeterred by this little guy trying to run off after each photo snap. I am amazed that they turned out as well as they did. She was quick with the shots and got some great ones of our little guy. Thank you Stacie we love them!
In these pictures Nolan is about 33 months old as his 3rd birthday will be at the end of August. Nolan is growing up quickly it seems. I am treasuring (and pulling my hair out) this summer as we get to spend so much time together. He is so smart, I know every parent says this about their children, but even so it is wonderful to listen to his questions and watch him explore and learn about he environment around him.
Some of Nolan's favorite things are:
His Daddy, he already looks up to him saying "Daddy is a good worker", "I'm going to be a good worker too".
Being outside, for as long as I can remember this has been Nolan's favorite place to be.
Other kids, the neighbor kids as especially interesting to him. If we hear voices while in our backyard, there is no chance Nolan is staying in our yard. He will be out the fence and the their yard before I even look up.
He loves Jake and the Neverland Pirates, good or bad he likes it and we put up with it.
Reading books, he is always interested in sitting down for a good read and refuses to go to bed if we don't read our stories.
Farming, he loves riding on the tractors and combine and he is already telling Aaron about the equipment. He had his first combine ride of the season earlier this week. He loves it, asking so many questions about the wheat as well as every button and sound in the combine.
ICE CREAM, can you blame the kid, who doesn't love ice cream. This does get a little tricky since he is allergic to peanuts but for the time being his favorite is vanilla which makes it easy to avoid nuts.
Pretend play, Nolan has always been pretty good at self entertaining as he has gotten older it is really fun to watch. He plays by himself but he carries on two sides of a conversation. He doesn't really even need toys, sometimes his right and left hands or feet are "talking" to each other, often in a dispute. I guess he is learning conflict resolution. He also likes to tell us that he is just pretending or that it is not real.
This growing boy is amazing and wonderful and I am so very happy that he is ours. It is fun to hear people say that he is just like Aaron when he was a boy. They both make me so happy everyday, I cannot wait to add another man to my life, surely that can only mean more happy right?