Our summer is already going by so quickly; I cannot believe we have been out of school for an entire month. That means only two more months till I will have a class full of kids! I better get ready!
We had another OB appointment this morning. 23 weeks along and everything is looking good with our baby boy. Still on track for an early October delivery. The little guy is absolutely a mover and a shaker, every time I sit down he is kicking around in there. Last night was the first time Aaron felt the little guy kick. 🙂 Nolan also had a check up today. He is looking good too; height and head circumference are in the 75% and weight is in the 50%.
Over the weekend Medicine Lodge had the annual summer celebration of Junefest. We were excited to host Andrew, Megan and Kylee Piester for the weekend. Megan had her 10 year class reunion and luckily we got to spend some great time catching up with the Piesters. Nolan and Kylee played and played. Downtown there was a bouncy house and an inflatable slide as well as a petting zoo. The kids certainly enjoyed these activities. We had hoped to make it to the pool but the weather was a little chilly and overcast so we played a the park and in the backyard instead. On Sunday Aaron was even able to make some progress on residing our backyard shed. Andrew assisted and they made quick work of the west side, which is the side I see from the kitchen window so it is quite nice to look at now.
Aaron's mom has been on a wonderful tour of Italy and will return on Wednesday. We have missed her so much. Nolan is really excited to have grandma back. We have received a few pictures from Marilyn and it sounds like she is having a magnificent time. I am so happy that she is taking this trip of a lifetime. Aaron has been staying busy in Sharon. Although we did not receive almost any rain this spring, now that it is time to harvest we have had several showers move through in the last two weeks. Aaron had thought he would be cutting by now, however it is just too wet to head into the field.
Recently my grandfather James (Jim) Hundley passed away. It is never easy to say goodbye to a loved one, but in this instance it did bring some comfort to our family. My grandfather had been living in an care home for the last couple years. Parkinson's and dementia had made his family strangers. On May 19 we physically lost a great man who we had slowly and painfully been losing for years. I hope that my grandmother can find peace in her sorrow as I know that she devoted her entire life to my grandfather, loving and care for him and his children. They were married just shy of 58 years. I can only hope that I will get to spend that many wonderful years with my husband.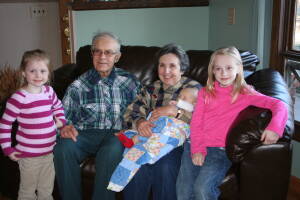 On June 4th we also reflected that it has now been two years since Aaron's father passed. I admit I may be "overly emotional" due to pregnancy but it was difficult and I don't think that time is healing this wound left by this absent father and grandfather. So often I think about Brian and how much he would have enjoyed seeing Nolan "work" in the shop and how he would have been reminded of Aaron when he was a little imaginative child. It is always hard to think of what he won't be here to experience, but then I remember that I am so very happy that he was able to meet and enjoy Nolan for the too short 9 months that they did have. Life is so short, I am so glad that I have true happiness with my little family.